---
The Ceiriog Valley
---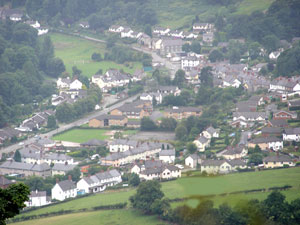 'A little bit of heaven on Earth' was how Lloyd George described the Ceiriog Valley. Surprisingly, this beautiful valley has remained relatively undiscovered, - a secret place. Only a few miles from the English border and the A5, one of the main tourist routes into North Wales, it has remarkably retained its cultural heritage and unspoilt countryside.
The Ceiriog Valley lies immediately south of and parallel to the picturesque Vale of Llangollen. Yet it is the Ceiriog Valley that has been called 'little Switzerland' and given rise to three notable poets, undoubtedly inspired by their love for their homeland. It is all the more surprising, therefore, that had Lloyd George not spoken so passionately in its defence, we may never have known of its beauty.
In 1923, Parliament was asked to grant statutory powers to impound the upper waters of the River Ceiriog and to evict the local population living within an area of 13,600 acres. Thankfully, commonsense prevailed and the proposal was defeated.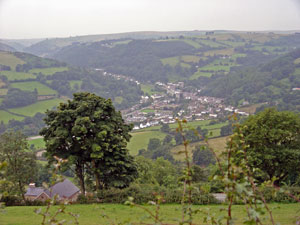 Pistyll Rhaeadr waterfall in the Tanat Valley (lower photo) is the highest waterfall in England and Wales (240ft). It can be reached by following the B4500 up the Ceiriog Valley and continuing onto Llanrhaeadr, from where it is signposted.
Valley of the Poets
The Ceiriog Valley was home to three notable Welsh poets - John Ceiriog Hughes (1832-1887), Huw Morus (1662-1709) and Rev. Robert Ellis (1812-1875). John Ceiriog Hughes, commonly known as 'Ceiriog' is revered as the 'Robert Burns of Wales'. Before he was thirty, Huw Morus (Eos Ceiriog - the Nightingale of Ceiriog), was already the most famous poet in Wales. His ballards written in support of Charles I were so evocative that Cromwell sent a detachment to silence him.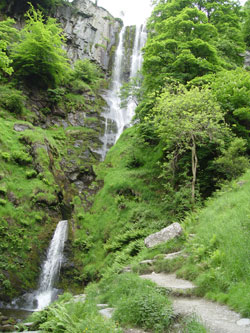 Robert Ellis also known as 'Cynddelw' was an Eisteddfod-winning poet and Minister at Glyn Ceiriog for many years. A fourth notable literary figure is Islwyn Ffowc Elis. Born in 1924, he has published a large number of books and has laid the foundation of the contemporary Welsh novel.
The attractions at Glyn Ceiriog:-
---
The Theo Davies Craft Workshop is on the main street into the village. Here, furniture is crafted or lovingly restored by skilled craftsman Theo Davies and his family. The shop is open on weekdays. Telephone:- +44 1691 718218
---
The Ceiriog Memorial Institute is a lasting memorial to the famous poet 'Ceiriog' and to other notable Welshmen. Founded in 1911 and extended in 1929, it houses a rare collection of memorabilia. This 'Jewel of the Glen' is open daily between Easter and October, between 1pm and 6pm or, by prior arrangement for group visits.
---