---
Lady Margaret's Walk
---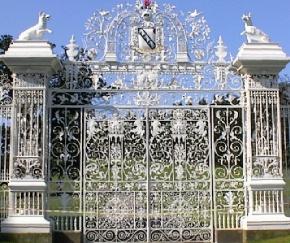 About 2 miles, height gain 40 ft. Allow 1 hour.
Leaving the car park behind the Hand Hotel in Chirk, cross the main road at the Cenotaph and follow Station Avenue towards the railway station.
Just before you cross the railway bridge, on your left is a Community Rail Information Board. This includes a map showing all the places of interest in the Chirk area, and a carved frame showing the aqueduct and castle. The woodwork and carvings are the work of a local man.
Cross over the railway bridge, and then immediately over the Shropshire Union canal which runs under the road. Look to your right and see the canal entering "The Darkie" tunnel which is about 350yds. long.
Walk on for about 5 minutes. and you see facing you the magnificent main gates of Chirk Castle, known locally as the Pretty Gates. Here you turn left and follow the drive which takes you past Lady Margaret's Caravan Park. Beyond the Park entrance the track continues ahead to a "T" junction. Here turn left again, and follow the path crossing a little wooden bridge, "The Matchstick Bridge" , to the road. It used to cross the old tramway!
Turn left at the road, and follow this road until you arrive back in Chirk, opposite the church. Turn left again and you are back at the Hand Hotel with the car park behind.