---
The Parish Church of St Mary, Chirk
---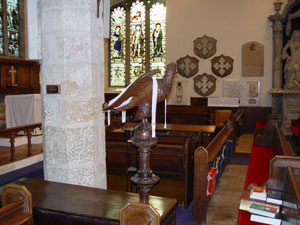 The Chancel Memorials - The Trevors of Brynkynallt
The Trevors of Brynkynallt descend from Tudor Trevor who flourished c.940 A.D., a son-in-law of the great Welsh law codifier Hywel Dda, and reputed 'king' of the borderland from the Maelor down to Gloucester.
The founder of the family fortunes was Sir Edward Trevor who died in 1642. Outstanding amongst the Trevors was Sir John Trevor (1638 - 1717), a cousin of Judge Jeffreys. Trevor was Master of the Rolls and Speaker of the House of Commons. The male line came to an end in 1762 and the estates passed to Arthur Hill (Trevor), 1st Viscount Dungannon of the second creation. Lady Dungannon was grandmother of the great Duke of Wellington who as a boy spent his school holidays at Brynkynallt and on one occasion was thrashed in a stand-up fight with a young local blacksmith who later proudly delighted in having 'beaten the man who beat Napoleon.'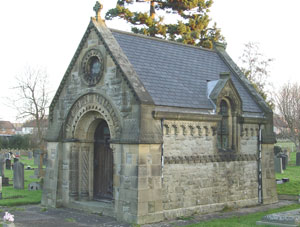 In 1857 Arthur Hill Trevor (1798 - 1862), the third and last Viscount Dungannon, successfully petitioned the Diocesan Court at St. Asaph for a faculty -
'. . . for removing three Tablets or Monuments erected to the memory of the Right Honourable Arthur the late Viscount Dungannon, the Right Honourable Charlotte the late Viscountess Dungannon and the Honourable Charles Trevor on the Southern Wall and within the Southern Aisle of the parish Church of Chirk in the County of Denbigh and situate at the eastern end of the same church near the Pulpit and over a seat occupied by the Right Honourable Arthur Hill Viscount Dungannon from their present site in the parish church aforesaid for the purpose of being placed and set up near to and with other tablets or monuments belonging to the Brynkynallt Family within the Chancel in the parish Church of St. Martins in the County of Salop.'
These memorials were removed and have been gradually replaced by memorials to the late Hill-Trevors as may be seen on the south and east sides of the chancel both in stone and stained-glass.
On a second failure of male heirs in 1862 the estates went to Lord Arthur Edwin Hill (Trevor), (1819 - 1894), 1st Baron Trevor of Brynkynallt.
© The Parish Church of St Mary, Chirk
Website:- http://www.stmaryschirk.org.uk/