---
A Taste of the Ceiriog Valley
---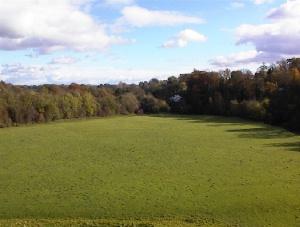 About 3 miles, 100ft. height gain. Allow 1 hr. 20 minutes.
Leaving the town car park alongside the Hand Hotel, turn left and follow the main road for about 14 minutes, passing the Church on your left and continuing on the main road until you reach the bottom of the hill on the river bridge.

Here you cross over the road and fork right to go along in front of the Bridge Inn and up the hill for 5 minutes to the canal bridge. Cross the bridge, keeping to the road for another 2 minutes to a stile on your right. Follow the waymarked path along the right-hand field boundary, where you can look down onto the canal below. Keep ahead to take steps leading down to a the railway level crossing. TAKE GREAT CARE here for HIGH SPEED TRAINS ROAR THROUGH! Ascend steps on the far side to continue on a signed path, which soon enters woodland and descends to become a track. Reaching a tarmac road, turn right downhill and go right again at a junction. Five minutes down hill is Pont Faen (The Stone Bridge) which once carried the Cardiff to Chester Road! Cross the bridge over the River Ceiriog and immediately before the T -junction pass through the kissing gate on the right into a meadow. Keep alongside the river bank to pass beneath the mighty structures of the viaduct and aqueduct and ahead to a ramped track to another kissing gate onto the main road.

Cross the road and follow a waymarked footpath, which starts at the entrance to the old mill. On the left of the drive entrance, pass through a gap between two metal gates. The path runs beside and over the old millrace, before curving right to climb a steep rise to the stile at the top. Cross the stile and turn right along the road into Chirk. Pass the church and so back to the car park.