---
A Selection of Walks around Chirk
---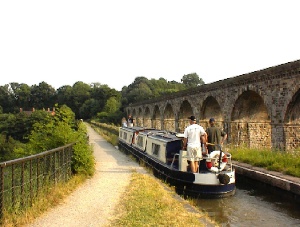 All the walks include sections on tracks, paths and across farmland which can be muddy at times. You need to wear boots or strong shoes with good grip, and take waterproof clothing, a drink and a snack. Walks take from 1 hour to 2 hours 45 minutes.

Please remember the Country Code, and in particular keep away from machinery and livestock, keep strictly to the paths, and walk in single file through crops (which include mowing grass). Take particular care in the lambing season (March / April/ May ), and never go between a young calf and its mother. Dogs should be strictly under control. "Leave nothing but footprints; take nothing but photographs"
Whilst Ordnance Survey maps are not essential, the 1:25000 scale Explorer 240 or Explorer 256 both cover the area and can add to your enjoyment.
All walks start at the town car park where there are toilets. Walks 2 & 5 pass the rail station, so you may start there.
Please note that times given are actual walking times, but do allow you to stop for breath on the uphill bits! Allow extra for significant stops.