---
Dolywern Cheshire Home
---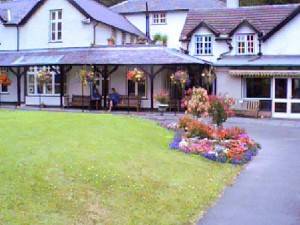 Dolywern Cheshire Home was established in 1962 and is part of the Leonard Cheshire Foundation, an international charity and the UK's largest provider of care and services for disabled people.
The Home is situated in the beautiful Ceiriog Valley, surrounded by landscaped gardens leading down to the river. Both home and gardens have been specially designed to be freely accessible to wheelchair users.
All bedrooms are single and residents are welcome to bring their own furniture and personal possessions. In addition there are spacious communal areas.
Residents are encouraged to participate in the running of their home through the residents committee, two members of which sit on the Management Committee of the Home.
We are able to offer a wide range of services to adults of all ages who have physical disabilities:-
Day Care

Holiday Breaks

Respite Care

Accommodation for family carer

Ensuite rooms semi-independent living

Continuing care for more severely disabled people

Regular physiotherapy

Art and Craft therapy

Hairdressing

Excellent cuisine with choice of menu plus special diets catered for

Regular outings for groups or individuals in our minibuses
The Home specialises in the care of people with multiple sclerosis and has long established close links with local MS societies. We are currently developing services for people with Huntington's Disease.
The Singapore Declaration:- 'A Cheshire Home is a place of shelter physically, and of encouragement spiritually, a place in which the residents can acquire a sense of belonging and of ownership by contributing in any way within their capabilities to its functioning and development, a place to share with others, and from which to gain confidence and develop independence and interests, a place of hopeful endeavour and not of passive disinterest', Leonard Cheshire (1917 - 1992).
---
Cartref Dyffryn Ceiriog Cheshire Home,
Dolywern, Llangollen, LL20 7AF
Telephone:- +44 1691 718303 / 718939 - Fax:- +44 1691 718042
---