---
Riverside, Forge and Hilltop
---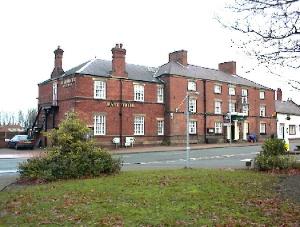 About 5¼ miles, height gain 470 ft. Allow 2h. 45mins.
Leaving the car park in Chirk, using the exit alongside the toilets. At the Post Office, turn right and in 7 minutes you will pass the fire station on your left. Don't go left, but keep ahead on the lane. On your left, see a play and picnic area, which now covers the area where Brynkinallt Colliery once stood. This colliery ceased to be a working mine many years ago, and was used as an upcast shaft for Ifton Colliery in St. Martins, until Ifton closed in 1968.
At a junction, turn right, and cross the modern bridge over the bypass. Follow down the hill to a little hump back bridge. Many years ago a road from Brynkinallt Hall ran under this bridge to the hall gardens on your left side. You can see the hall on your right.
About another 3 minutes. ahead, leave the road and go over a stile, sometimes partly hidden in the hedge, on your right hand side. Cross two fields, one level, and one quite steep and muddy, and you come to the little road bridge which crosses the River Ceiriog at Pont-y-Blew. Don't cross the bridge but turn left along the lane and after a couple of minutes on your left you can see the remains of the old forge which has lately been renovated and renewed. The hamlet of Pont-y-Blew is also known as "The Forge".
Follow the lane leaving Pont-y-Blew behind, to pass between a farmhouse and some outbuildings. Turn right at the T -junction and walk for. about 15 minutes. passing houses on your left until you come to a narrow lane on your left. Turn left to follow this lane for another 30 minutes. Known locally as Court Lane, it has good views to the right of the area known as Rivers Meet where the Rivers Dee and Ceiriog join.
Continue uphill and the lane levels out and later passes through a farmyard. The lane bears right but take the left fork and then right at the T -junction. Ignore the left and right turns in the hamlet of Halton and follow the road ahead around a traffic island to pass the entrance to "McDonalds" and under the bypass bridge.
On your left you will see an active airstrip. Continue ahead for two or three minutes and take the first left and follow this road. To your right there is a glorious view of Chirk and many miles of the surrounding area. Following the road brings you back to where you turned to cross the bypass bridge earlier. Swing right and retrace your steps passing Brynkinallt Home Farm and the fire station, keeping ahead to bring you back to Chirk Post Office and the car park.